Byline: Md. Arif Hossain
Bangladesh Agriculture Research Institute (BARI) and Feed the Future South Asia Eggplant Improvement Partnership jointly organized a day-long workshop on "Bt Eggplant Research and Development" that brought together representatives from public research institutes, academia, government agencies, USAID and media at the Radisson Blu Hotel in Dhaka on March 23, 2017.
The workshop was divided into two sessions- an inaugural session and a technical session. Honorable Agriculture Minister Begum Matia Chowdhury, MP was present as the chief guest of the inaugural session chaired by Mr. Mohammad Nazmul Islam, Secretary (Routine Charge), Ministry of Agriculture. Other participants included Md. Manjurul Hannan, Director General DAE, Mr. Md. Raisul Alam Mondal, Director General, DoE, MoEF, Mr. Matt Curtis, EG Director of USAID Bangladesh and Dr. Mohammod Jalal Uddin, Executive Chairman, BARC as the special guest. Prof. Anthony M. Shelton, Director, Feed the Future South Asia Eggplant Improvement Partnership was present as the guest of honor of the event. Dr. Abul Kalam Azad, Director General, BARI provided the welcome address of the workshop.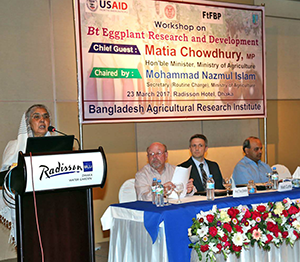 Honorable Agriculture Minister Begum Matia Chowdhury, MP said," Development of brinjal fruit and shoot insect resistant Bt brinjal is a success story of local and foreign collaboration. Bt brinjal is now in the farmers' field. In 2014, 20 farmers grew Bt brinjal and in 2017 at least 5500 farmers are growing Bt brinjal with the help of BARI and DAE using good quality seeds produced by BARI. This year BARI is producing 800 kg Bt brinjal seeds. I congratulate USAID for supporting the Bt brinjal activities in Bangladesh."
The Honorable Minister said, "We will be guided by the science based information, not by the nonscientific whispering of a section of people. Good science will move on its own course keeping the anti-science people down. She also said," As human beings, it is our moral obligation that all people in our country should get food and not go to bed on an empty stomach. Biotechnology can play an important role in this effect.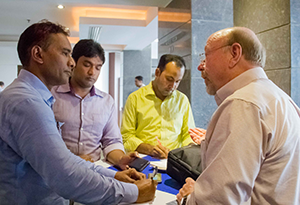 Prof. Anthony Shelton briefly discussed the objective of the workshop. He said," Bt brinjal is a very valuable technology. It does an excellent job of controlling eggplant fruit and shoot borer. This technology is very valuable and has to be grown with proper stewardship and in the context of integrated pest management (IPM). If not, this valuable technology will be lost in a matter of a few years when insects evolve resistance to it. "
"Proper stewardship is needed for the long-term sustainability of Bt brinjal in Bangladesh. So now and in the future proper stewardship activities must be implemented. Cornell University and Feed the Future South Asia Eggplant Improvement Partnership are ready and willing to help support stewardship activities for the long-term durability of Bt brinjal in Bangladesh," he added.
In his remarks Mr. Matt Curtis, USAID Bangladesh, said, "Bt brinjal is a technology that improves the food safety of the consumers and it also protects the producers." He continued by stating," USAID is proud to partner with Bangladesh since it continues to be a key US ally in South Asia. In terms of the Feed the Future Program, Bt eggplant is a long-term investment between USAID and Bangladesh."
Mr. Anwar Faruque, Former Secretary, MoA chaired the technical session of the workshop. BARI scientists presented studies showing the excellent performance of Bt brinjal in field studies. Additional presentations focused on frequently asked questions about Bt brinjal and thoughts about the future of Bt brinjal in Bangladesh. The session was followed by an open discussion. Mr. Mohammad Nazmul Islam made the concluding remarks of the workshop.