Byline: Arif Hossain
"Political will, policy support, effective stewardship and communication are key to the successful and sustainable adoption of agricultural biotechnology in developing countries," said Vijay Paranjape, stewardship coordinator of the Feed the Future South Asia Eggplant Improvement Partnership. Using the example of Bt brinjal in Bangladesh, Paranjape emphasised continuous stewardship and communication programmes in the successful adoption of genetically engineered (GE) Bt brinjal and other GE crops. He made his remarks in a panel discussion of the Bangalore Technology Summit 2017 on November 16 that brought together national and international experts, thought leaders, technocrats, researchers, investors and policy makers.
"Stewardship and regulatory practices adopted by technology developers need to be made known to all stakeholders and not just the regulators to make the technology durable," said Paranjape. He also said that farmers in developing countries like Bangladesh who have limited resources need to focus on technological advances for better food production.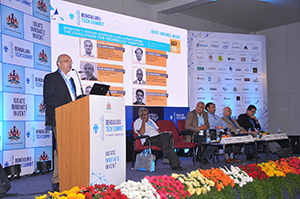 Agricultural biotechnology has the potential to provide more food and better nutrition in addressing challenges related to climate change, according to Paranjape. "Proper stewardship and behavioural changes of growers are equally important in keeping the viability and effectiveness of commercialised GE crop varieties."
He also said that field level performance and durability of Bt brinjal will affect the success of Golden Rice, Late Blight Resistant Potato, Bt cotton, Salt Tolerant Rice and other GE crop research and development in Bangladesh.
Bt brinjal is the first commercially released genetically engineered food crop in Bangladesh. The field demonstrations conducted from 2014 to 2017 shows the benefits of Bt brinjal in controlling the fruit and shoot borer.  Farmers are highly satisfied with their experiences.
The crop was initially developed in India but not permitted for commercial cultivation due to strong opposition from NGO and anti-GM activists. Realizing the need for scientific innovation and adoption of modern agricultural technologies for food security, political and agricultural leaders in Bangladesh took the bold step of commercializing Bt brinjal.
The Feed the Future South Asia Eggplant Improvement Partnership provides post commercial stewardship and communication support for Bt brinjal in Bangladesh in collaboration with Cornell University and Bangladesh Agriculture Research Institute (BARI), with support from the USAID.