Byline: Linda McCandless
To strengthen capacity to develop and disseminate genetically engineered eggplant in Bangladesh and the Philippines, the U.S. Agency for International Development (USAID) has awarded Cornell a $4.8 million, three-year grant. The award supports USAID's work under Feed the Future, the U.S. government's global initiative to fight hunger and improve food security using agricultural science and technology.
In the Feed the Future South Asia Eggplant Improvement Partnership, Cornell will protect eggplant farmers from yield losses and improve their livelihoods in partnership with the Bangladesh Agricultural Research Institute (BARI) and the University of the Philippines at Los Baños. Eggplant, or brinjal, is a staple crop that is an important source of income and nutrition for farmers and consumers in South Asia.
"Because of infestation by the fruit and shoot borer, or FSB, as much as 70 percent of the eggplant crop in South Asia never makes it to market," said Anthony Shelton, international professor of entomology in the College of Agriculture and Life Sciences at Cornell, who will direct the project. "Farmers in Asia spray hazardous insecticides as often as every other day to control FSB."
Genetically engineered eggplant, or Bt brinjal, has been developed over the last 11 years and uses a gene from a naturally occurring soil bacterium to produce a protein that causes borers to stop feeding.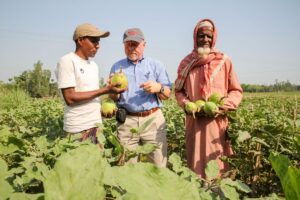 Bangladesh eggplant farmer Md. Milon Mia (l) and his father (r),
from the Bogra district,
show Tony Shelton (center) the difference
between Bt brinjal and fruit and shoot borer infested non-Bt brinjal.
CREDIT: Arif Hossain/Cornell
"Bt, or bacillus thuringiensis, is a biological pesticide that organic growers have used for decades," said Shelton. "Bt brinjal increases food security and reduces the use of insecticides that negatively affects human health and the environment."
"Bangladesh faces food shortages, increasing population, and decreasing amounts of arable land," said Dr. Md. Rafiqul Islam Mondal, director general of BARI. "Genetically engineered crops developed under the Feed the Future South Asia Eggplant Improvement Partnership will enhance the quality of life for Bangladeshis by increasing income, improving nutrition and health, and fostering a safer environment."
Over the past decade, Cornell has led the Agricultural Biotechnology Support Project II (ABSPII), also funded by USAID, that prompted a consortium of institutions in Asia and Africa to use the tools of modern biotechnology, particularly genetic engineering, to improve crops to address major production constraints for which conventional plant breeding tools have not been effective.
According to Shelton, ABSPII's most significant achievement was working with BARI and the Bangladesh government to achieve product authorization of eggplant varieties in that country.
"The Feed the Future South Asia Eggplant Improvement Partnership award will help realize the full impact of USAID's preceding years' investment in research and technology development, to facilitate the late-stage development, deregulation, commercialization and dissemination of Bt eggplant to farmers," said Joe Huesing, USAID senior biotechnology adviser. "The goal is to increase food security and improve environmental quality through supporting the national partners in their efforts to commercialize and adopt genetically engineered eggplant."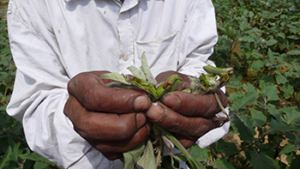 Mansur Sarkur shows the damage caused by the
fruit and shoot borer (FSB) from a non-genetically modified eggplant.
CREDIT: McCandless/Cornell  
In October 2013, Bangladesh became the first country in South Asia to approve commercial cultivation of a genetically engineered food crop. In February 2014, Matia Chowdhury, the Bangladesh minister of agriculture, released four varieties of Bt brinjal to 20 farmers. With the establishment of the 20 Bt brinjal demonstration plots in 2014 and 104 more in 2015, BARI reported a noticeable decrease in fruit and shoot borer infestation, increased yields, decreased use of pesticide and improved income for farmers.
"The performance of Bt brinjal was better than non-Bt brinjal in all districts," said Mondal. Five additional Bt eggplant varieties are in the pipeline for release in Bangladesh. The Feed the Future South Asia Eggplant Improvement Partnership addresses and integrates all elements of the commercialization process — including technology development, regulation, marketing, seed distribution, and product stewardship. It also provides strong platforms for policy development, capacity building, gender equality, outreach and communication.